YOUKOSO NIHONGO! » Japanese Lesson at Your Place in Tokyo
Why Japanese Lesson at Your Place by YN?
1. Completely tailor-made lessons - For efficiency-oriented and time-conscious people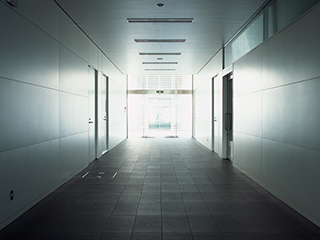 We first ask our students their motivation and goals for studying Japanese, their learning style, and how they have lived in the past. We then create lesson plans and a curriculum that is best suited to them and start lessons.
In other words, YN's lessons are completely tailor-made for each and every individual student. For students, lessons prioritize what they want to learn, whether they want to focus on Japanese conversation, take the Japanese Language Proficiency Test, or learn to read Japanese magazines. The student has the final say in every aspect of the lesson, from the materials used in lessons to the curriculum. You can start with real-life conversation practice, read manga, or learn work-related phrases. Since the courses are tailor-made, you learn Japanese with a focus on what you need.
2. Learn everything from greetings to business etiquette - For people who want to learn Japanese from experienced instructors
YN's instructors are all professional Japanese instructors who learned how to teach Japanese to foreign students in Japan. They also have life experience in Japan. This means that they can help students dealing with working and living in Japan to live here comfortably and worry-free. YN's instructors can confidently teach the appropriate Japanese for all kinds of situations, such as greetings, receiving business cards, replying to party invitations, and giving speeches at weddings.
* All of YN's instructors studied how to be Japanese instructors as either a major or minor in university. They have also completed a 420-hour course in Japanese instruction and passed the Japanese Language Teaching Competency Test.
3. For people who want to learn practical skills and handle real-life situations rather than theoretical knowledge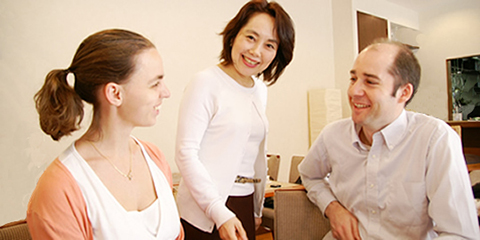 Should people who study Japanese every day really learn with the same teaching methods as busy businesspeople whose lives are not centered around Japanese? In principle, understanding is the most important thing. But in our lessons, we do not mechanically repeat the sentence pattern practice that is so typical of school lessons. Instead, our lessons improve students' conversational ability, selecting words and phrases that are likely to come in handy for the student's individual circumstances and situation. Why not start by taking trial lesson? (»trial lesson)
Lesson Course, Price (tax excluded)
Admisssion fee : 10,000JPY
60min

120min

180min

Private

5,500JPY

10,000JPY

14,000JPY

2 persons

7,500JPY

13,000JPY

21,000JPY

3 persons or more

9,000JPY

Please send inquiry
* Teacher's transportation cost is not included. (maximum 1,200JPY/round trip in most cases.)
* Text book cost is not included.
Special Discount Available
5% discount for advanced purchase of more than 50 hours
10% discount for advanced purchase of more than 100 hours
From Recent Lessons
Private lessons at a Chiyoda company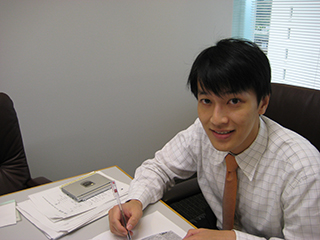 Mr. B has been taking lessons from us for over five years. He has passed Level 1 of the Japanese Language Proficiency Test, and through reading newspaper articles, and practicing high-level grammar and writing, he has learned accurate and subtle means of expression.
Private lessons at a Yokohama company
I oversaw short-term Japanese lessons that were part of company training.
The last part of the lesson was a presentation using the Japanese they had learned.
From personal growth through going out on the town in Kyoto to discussions of the anime "One Piece," everyone did their best and gave enjoyable presentations!