YOUKOSO NIHONGO! » Kichijyoji Japanese Class
Kichijyoji Japanese Class -Why Kichijyoji Japanese Class by YN?
1. You can receive custom-made Japanese lessons in the Musashino area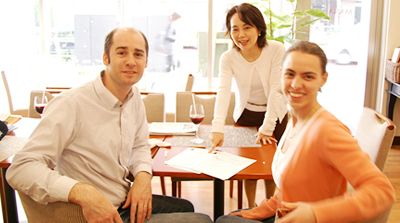 The location of lessons is 2 minutes on foot from the JR and Inokashira Lines at Kichijoji Station. Kichijoji is not an office area, but a city where people living in Tokyo normally reside and enjoy their lives. It might be fun to try visiting the Ghibli Museum and Inokashira Park on the way back from lessons. In such a location, you can receive Japanese language lessons from a Japanese instructor with extensive experience in providing custom-made Japanese lessons to businesspersons.
2. You can learn in an environment that allows you to concentrate and is relaxing
The only persons in the lesson space are the teacher and you, the student(s). So unlike lessons at coffee shops and open spaces, you can focus on lessons while feeling relaxed. Because it is not necessary to think about the people around you, you can freely speak, ask questions, and refine your practical skills.
3. Private lessons, small group lessons, and tailor-made lessons are all available
Group lessons of 4-5 people are also possible in this school. You can also have lessons with your friends and co-workers. The instructor can handle students who are aiming to pass the Japanese-Language Proficiency Test (JLPT), students who would like to focus on a specific field, students who would like to focus on reading and writing Japanese, etc. If there is an aspect of the Japanese language that you would like to study, please feel free to consult about what and how you would like to learn.
Lesson Course, Price (per person, tax excluded)
Admission fee : 5,000JPY
60min

120min

180min

Private

5,500JPY

10,000JPY

14,000JPY

2 persons

7,500JPY

13,000JPY

21,000JPY

3 persons or more

9,000JPY

Please send inquiry
* The prices are the same as the private lesson at your place.
* The room cost 800yen/hr is necessary.
* Teacher's transportation cost is included.
* Text book cost is not included.
Special Discount Available
5% discount for advanced purchase of more than 50 hours
10% discount for advanced purchase of more than 100 hours
Access of Kichijyoji Class
Kichijoji-SPACE,
2-8-6 Kichijojiminamicho, Musashino, Tokyo
(We will inform the detail once your lesson is arranged.)
From Recent Lesson
Ms. M.O, a French person who took intensive lessons to improve her speaking ability and succeed in a Japanese language certification exam.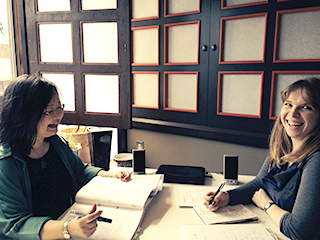 She studied at home every day for approximately one hour and a half while taking the lessons, so her Japanese level improved a lot. At the end, she practiced by doing a Japanese presentation. She talked about "Attack on Titan." She did not just talk about the contents of the manga, but instead used it to look at at the theories of French critics on Japan, which was very interesting. She was able to use a lot of the expressions that she had learned. Starting next year, she will be taking office lessons twice a week.